Contemplative and active. Jesus in the Blessed Sacrament is the center of the life of our Congregation. As Poor Clare contemplative Sisters, we dedicate ourselves to silent prayer for a period of time in the morning as well as the evening; likewise, we have daily adoration in the morning, taking turns of thirty minutes. Once a week we have nightly adoration taking turns of one hour until next morning.
Traditions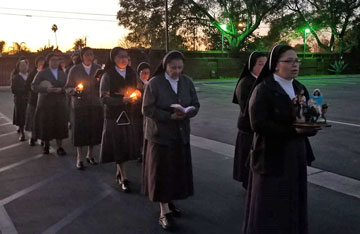 Yearly celebration of our blessed Mother Foundress together with all the lay and consecrated members of our Inesian Family.
We have processions on different liturgical feasts such as the Advent season during "las Posadas".
Solemn celebration for the Holy Triduum.
We sing in Latin in special occasions.
We communicate worldwide through chronicles.
We honor in gratefulness the Sisters who serve as superiors with a day of recognition.
We sing a welcoming song in Spanish when a new person walks into our convent for the first time.
Every year in October we promote in a special way with different activities the prayer and sacrifice for the missions.

We celebrate special events or holidays such; Thanksgiving, Christmas, Easter. We do these as a region, where the different communities of Sisters gather together in a joyous celebration.

Adoration
"Before the Tabernacle and in the Eucharistic Adoration I say to my beloved: every moment, pulsation and beating of my heart are to be infinite acts of love and gratitude, trust, adoration and reparation on my behalf and in the name of all creatures. That is my intention, to stay in his Tabernacle, doing these acts, and not only in this Tabernacle, but in all tabernacles in the world." Ma. Ines Teresa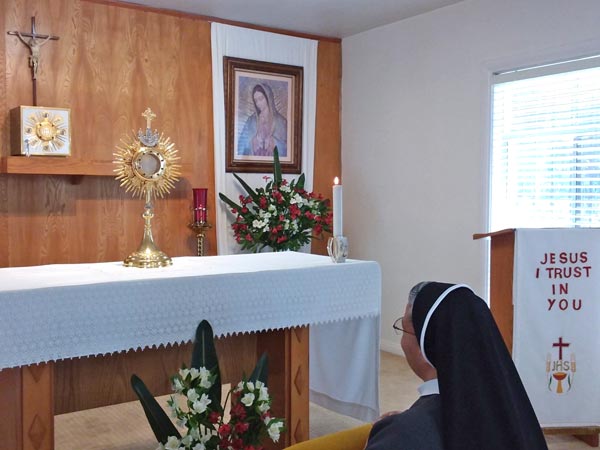 Patron Saints/Famous Saints of the Community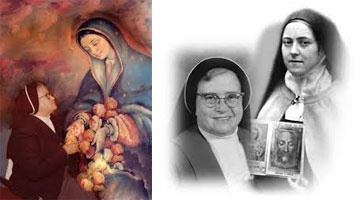 Our Lady of Guadalupe (Our Patroness)
St. Joseph (co-patronage)
St. Francis of Assisi (co-patronage)
St. Clara (co-patronage)
St. Therese of the Lisieux (co-patronage)